Hancock Fire
(Hancock) – Explosions shook neighbors awake on the Mud Creek Road in Hancock early this morning as a home, barn and garage burned to the ground.  Firefighters had no chance to save the buildings.  Hancock Fire Chief Chris Holmes tells Star 97.7 they were concerned someone might b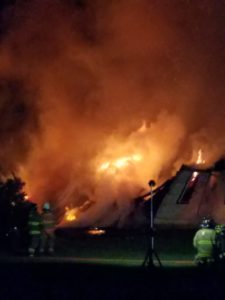 e inside, but relieved to find out otherwise.  The fire marshal's office will try to find the cause later today, but an excavator ended up pushing down what little was left of the buildings.  Firefighters from 7-communities responded to the scene.
Otis Fire
(Otis) – Many of the firefighters on the Hancock fire scene had just returned from a house fire in Otis last night.  The call to the Springy Pond Road came in around 11:00 last night, bringing firefighters from Mariaville, Ellsworth and other communities.  No word on a cause or injuries.  It's believed the house was saved, but at least one room sustained significant damage.
Blue Hill Rejects Purchase
(Blue Hill) – Voters in Blue Hill have rejected a proposal to purchase shore front property.  The Weekly Packet reports the vote was close – 96 to 87.  The proposal would have seen the town pay $458-thousand dollars for 3-and-a-half acres on the Salt Pond.  Supporters say it would have benefitted the community by giving fishermen waterfront access.  Opponents argued the measure should be been decided by a referendum vote, while others said the purchase price was too high.
Water Death
(Port Clyde) The Medical Examiner's Office will perform an autopsy on a lobsterman's body to determine whether he had a medical issue or drowned in the Port Clyde Harbor.  The Bangor Daily News reports Good Samaritans found 56-year-old John Crane IV (the 4th) unresponsive in the water shortly after 6 AM Saturday. Attempts to save him were unsuccessful.
Farmer Suit
(Belfast) The Swanville farmer accused of animal cruelty was in court on Friday for unrelated code violations. WABI-TV reports Jerry Ireland is being sued by the town of Swanville for allegedly building a "bunkhouse" on his property with out obtaining permits. Town officials claim Ireland ignored notices from the code enforcement officer. He testified in Belfast court that he did in fact apply for 2 permits. A judge is expected to make a decision this week.
Monday Music
(Hancock) Frenchman Bay Conservancy's Monday Music Concerts continue this evening in Hancock. Spokesman Austin Schuver says tonight's entertainment features a jazz trio. All Music Monday Concerts this summer are weather permitting.
Blueberry Day
(Sedgwick) Blue Hill Heritage Trust is working to conserve more of the scenic view and iconic landscape at Caterpillar Hill in Sedgwick. Outreach director Chrissy Allen says folks can pick blueberries there this afternoon from 3 'til 5.  Allen says containers will be provided for blueberry picking.
Alternate Ferry Proposal
(Bar Harbor) Another company is throwing its hat in the ring to operate from the defunct ferry terminal in Bar Harbor now owned by the town. The Bangor Daily News reports Downeast Windjammer Cruises has proposed paying Bar Harbor 2-point-7-5 million dollars over 10 years to operate passenger ferries to Canada. The company, owned by Steve Pagels of Cherryfield, already runs seasonal sailing cruises around Bar Harbor. Pagel's plan submitted to the town on Tuesday proposes using a monohull ferry once a day, staying in Bar Harbor one night then in Nova Scotia the next, to make the venture more economical. The town council will discuss the proposal at its meeting August 7th.
Deputy Fired
(Paris, ME) A Maine sheriff's deputy accused of shooting off the tip of his finger while drinking off duty on St. Patrick's Day has been fired. The Sun Journal reports Oxford County deputy Stephen Witham was the only deputy trained to handle the department's dog and the sheriff says he plans to recommend disbanding the K-9 unit for now. The labor union representing Witham says it plans to file a grievance and take Wednesday's county commission vote to fire him to arbitration, if necessary.
Job Training Funding
(Augusta) The federal government is giving the OK to Governor Paul LePage's plan to direct more federal funding to job training. Maine Department of Labor Deputy Commissioner Richard Freund told State Workforce board members this month that the U.S. Department of Labor has conditionally approved the plan. Governor LePage's plan would require Maine's workforce boards to spend 70-percent of federal funds on job training. Leaders of those boards say his proposal would take away money for career counseling and hurt vulnerable job seekers.
Sports
Boston Red Sox 3  Minnesota Twins 0 (Nathan Eovaldi pitched 7-scoreless innings in his Red Sox debut).
Red Sox face the Phillies tonight.  David Price Starts for the Sox.
Red Sox lead the Yankees by 5-and-a-half games in the American League East
3rd baseman Rafael Devers is on the injured list for 10-days with a sore hamstring.
Trenton Thunder 4  Portland Sea Dogs 1
The baseball Hall of Fame inducted 6-members yesterday – Jim Thome, Chipper Jones, Vladimir Guererro, Trevor Hoffman, Jack Morris and Alan Trammel
Kyle Busch wins the NASCAR race at Pocono yesterday.