From the National Weather Service: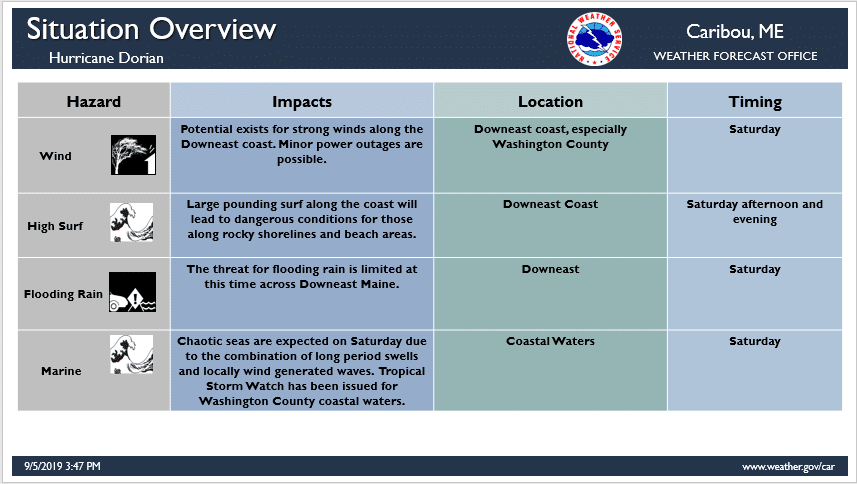 Overview:
In spite of the distance of the storm from our coast, we still expect the following impacts:
High surf:  Long period swells from Dorian of 8 to 10 feet will arrive along the coast Saturday afternoon and evening.  These swells will create a significant public safety risk to those who wish to view the breaking waves at popular sites such as Thunder Hole and Schoodic Point.
The high surf will also generate strong rip currents and beach erosion.  Minor splash-over at high tide Saturday evening could be possible along southerly exposed shorelines.   High tide on Saturday evening will be around 6:30 PM EDT.
Marine:  Tropical Storm force winds are possible over the coastal waters of Washington County on Saturday with lower confidence across the coastal waters of Hancock County but this is still possible.  In addition chaotic seas are expected on Saturday due to long period southeast swells from Dorian interacting with the locally generated northeast winds.
Winds:  The Downeast region will receive the highest winds, especially across Washington County.  The combination of gusts over 40 mph and leaves on trees could cause minor power outages in the Downeast region, especially in the Eastport region.
(info provided to Star 97.7 – 9/5/2019, 4:51 PM)