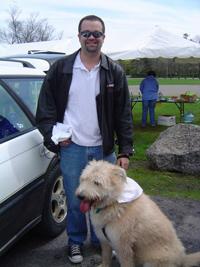 Bill DaButler is a local boy through and through; born right here in Ellsworth, raised in Bar Harbor, and has the rare honor of broadcasting in the same town in which he was born. As a child, when the family would talk around the table at Thanksgiving about what they were thankful for, Bill always said the same thing; "I am thankful for my record player!" Bill is a graduate of Liberty University in Lynchberg Virginia, and the New England School of Communications in Bangor, and has been a mobile DJ since he was 15. He can still be seen DJ-ing weddings, and parties all over the state. Simply put, Bill loves playing music for people, and has a real passion for music. Bill is an avid record collector and is always looking for new albums to add to his collection.
Bill got started in radio in 1992 at 89.3 FM WHSN, and has since worked at over 13 different Maine radio stations before settling down at Star 97.7 at our launch in 2005.
Bill lives in Lamoine, with his wife (Jessica) and three children. Bill enjoys playing the Guitar, and Bass Guitar, as well as writing songs, which he describes as "therapeutic."
Bill was awarded 3rd place in the Maine Association of Broadcaster "Radio Personality" category in 2003. He has won numerous MAB awards for radio production, and in 2011, shared first place in "Spot News Coverage" with Stu Marckoon at the annual MAB awards banquet. In 2013, 2014, 2015, & 2016 Bill also picked up a couple more awards from the Maine Association of Broadcaster for both his production work, website, social media skills, and news coverage.
In addition to being the Operations Manager, On-Air announcer, and Music Director for Star 97.7, Bill also works with the community to craft public service announcements for the station. If you would like to send your non-profit groups events for on-air consideration, or just want to chat about music, e-mail Bill at bill@star977.com
Or… Friend him on Facebook!
https://www.facebook.com/bill.dabutler