Events for April 19, 2019
To submit an event for Community Events, email your information to Star 97.7 at: bill@star977.com.
Ongoing
The Grand presents a special vacation matinee screening of "Wreck it Ralph 2: Ralph Breaks the Internet" – showing daily at 1 pm from Monday, April 15, through Friday, April 19, for only $1 per person. The film is sponsored by the city of Ellsworth and Mortons Moo.  For more information, call 667-9500 or visit […]
Find out more »
7:00 pm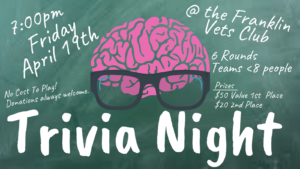 Friday, April 19, will be Trivia Night at the Franklin Veterans Club at 7 pm. Come on out and show off your trivia knowledge and maybe win a prize!  There is no cost to play, but donations will be accepted.  For more information, visit franklinveteransclub dot com.
Find out more »
This month's poetry slam at the Jesup Memorial Library in Bar Harbor features a special tribute to the late poet Mary Oliver.  On Fri April 19 at 7 pm come share your own work or a piece of poetry that inspires you. The Jesup's poetry slam is all about community and camaraderie, not competition.  For […]
Find out more »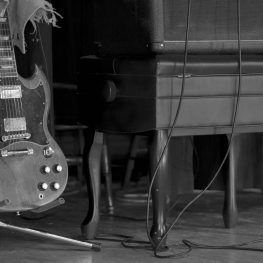 An open mic night for all musicians will be held at the historic Hammond Hall in Winter Harbor on Fri April 19 at 7 pm. Here is your chance to have nine minutes of fame on the stage of Hammond Hall!  If you need early set-up time, email Dennis at privateroadmusic@roadrunner.com.  For more information, call […]
Find out more »
+ Export Events