Events for September 17, 2020
To submit an event for Community Events, email your information to Star 97.7 at: bill@star977.com.
All Day
The Ellsworth Area Chamber of Commerce is holding its annual Autumn Gold "Jumbo Jackpot" raffle.   Cost is ten dollars per ticket, with only 500 being sold.  Grand prize is $2500!!  Tickets are available now at the Chamber's Visitor Center at 163 High Street.   (What would YOU do with a $2500 windfall!?!?)
Find out more »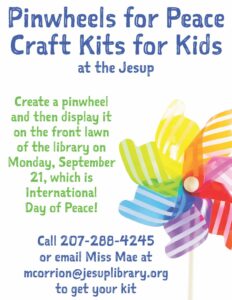 There are craft kits at the Jesup Memorial Library in Bar Harbor for kids to make their own pinwheel to display on the library's front lawn for Pinwheels for Peace on Mon, Sept. 21. Each child can create their own unique pinwheel and drop it off at the library for display. Call 288-4245 to get […]
Find out more »
3:30 pm
The Northeast Harbor Library is pleased to let everyone know that its Book Sale Down Under will be open Tuesdays and Thursdays from 3:30-5 pm.  A "collector's shelf" for those who are interested in old books has been added.  The book sale is donation-based except for the new collector's shelf.  Masks are required.  Call 276-3333 […]
Find out more »
4:00 pm
Blue Hill Heritage Trust and Island Heritage Trust are co-hosting a webinar on Thurs Sept 17 from 4 to 5 pm called "Mushrooms in Maine: Good, Bad and Beautiful."  For more information, visit www.bluehillheritagetrust.org or email landere@bluehillheritagetrust.org.
Find out more »
+ Export Events