Ellsworth Winter Carnival – Note Changes in Schedule
February 9, 2019

-

February 10, 2019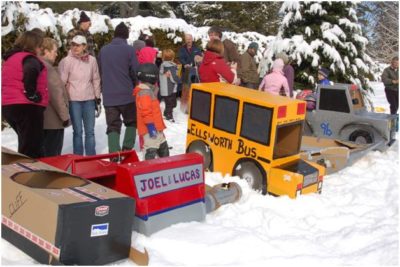 The 2019 Ellsworth Winter Carnival offers two days of winter fun on Sat Feb 9 and Sun Feb 10. Events scheduled include an ice fishing derby, a snowshoe race, snowmobile rides and cardboard sled races at Woodlawn, fireworks at Ellsworth High School and an open mic session at The Grand. For more information and a complete list of events, visit ellsworthmaine.gov.
NOTE:
We are sorry to report that the Winter Carnival activities scheduled to take place at Woodlawn are cancelled due to the lack of snow. Please see the notice from the City of Ellsworth, Maine Recreation Committee:
Due to the weather or lack of it, the Ellsworth Recreation Committee has decided to postpone the following events planned for the Winter Carnival this weekend. Snow shoe race, cardboard sled race, snow mobile rides, clam boot classic. A new date will be announced when or if conditions improve.
The following events will still happen; open swim and hover board on Saturday 4 to 6 pm at the Y, Fireworks at 7 pm Saturday at the high school and open mic at The Grand is still happening at 8 pm Saturday.
The 2nd annual ice fishing derby is still happening and for this event the weather is perfect.