The 7th Annual Hancock County Food Drive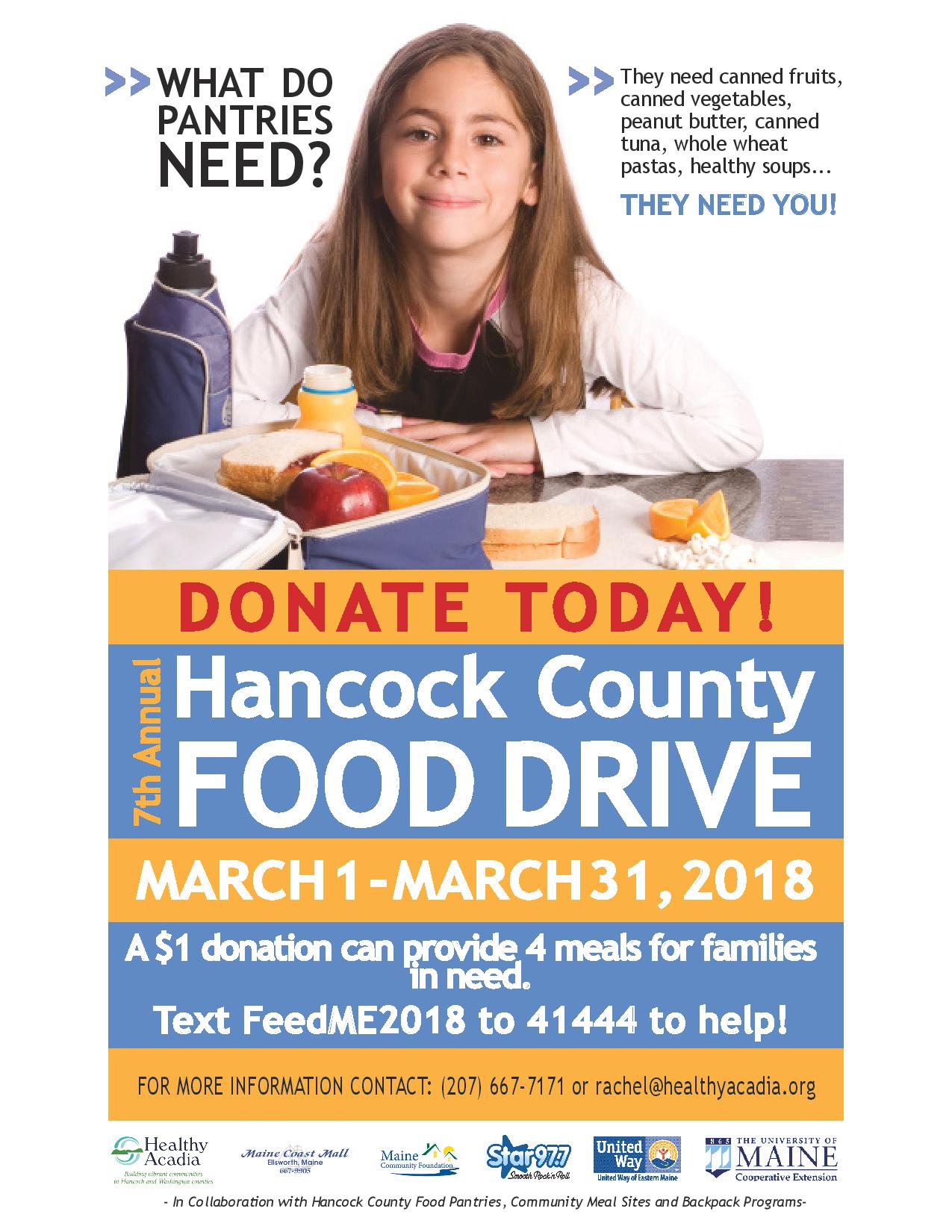 March 1st-March 31st
UPDATE: Food Drive Update;
Paint and Munch for Hancock County Food Drive – Saturday March 31st 2:00 pm – 4:00 pm at the Lighthouse Arts Center. .Cost covers one plate full of munchies and all art supplies needed. Half the fee for this event will go directly to the Hancock County Food Drive, the rest covers the cost of supplies and food. Cost is $30.
Food Drive Details

Winter in Maine can be challenging.  Especially for those who have to make a choice between buying food, heat or medication.
The 7th Annual Hancock County Food Drive runs March 1st through March 31st for you to drop off food donations.
Get involved in the 7th annual Hancock County Food Drive!  In 2017, 10,500 food items were collected and $15,000 was raised from sponsors, school collections, and private donors. The drive benefited 14 food security organizations that serve our neighbors in need across Hancock County.  This year's goal is to raise $20,000!
Food insecurity affects more than 15% of Hancock County residents!
1 in 4 children in Maine are at risk of food insecurity
***A $1 donation to the Hancock County Food Drive can provide 4 meals through our food pantries!!!
What do our local food pantries NEED?  ⇒  They need whole grain pastas, healthy soups, canned vegetables, low sugar cereals, whole grain rice, canned fruits, peanut butter, canned tuna, and canned meats!
Questions?  Contact Rachel Emus at Healthy Acadia at 667-7171 or
rachel@healthyacadia.org.
Text and online donation option: Text the phrase feedME2018 to # 41444 and you will be sent a link to the online donation form https://app.mobilecause.com/f/1piv/n
CHECKS: make payable to: United Way of Eastern Maine, 700 Main St, Suite 1 Bangor, ME 04401. Hancock County Food Drive in the memo line
To donate online through the United Way, pay here:
Hancock County Food Drive Collection Sites:
First Congregational Church
Habitat for Humanity Restore
St. Dunstan's Episcopal Church
St. Joseph's Catholic Church

Bar Harbor
Bar Harbor Congregational Church
Hillard Walls Plumbing & Heating
Mount Desert Island High School
Serendipity Resale Clothing Boutique
Tremont Consolidated School
Blue Hill
Blue Hill Consolidated School
First Congregational Church
Food Drive Events Calendar