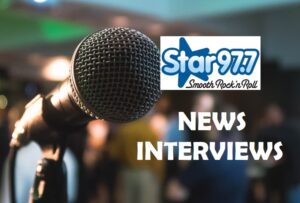 May
5-30-23 The weather is perfect for planting!  And you'll find everything you need this Saturday at the Ellsworth Garden Club's Pink Tulip Festival and Sale in Ellsworth!
5-12-23 On April 8th, 2024, the moon will completely cover the sun for about 3-1/2 minutes, as Maine experiences a rare total solar eclipse.  One of the Citizen Scientist Project coordinators documenting the path from Texas to Maine is right here at the University of Maine Orono!
5-9-23 Brent Hutchins talks with Star 97.7 about the value of the arts, The Grand, Executive Director Nick Turner and the rest of The Grand staff and what it means for the residents of and visitors to Coastal Maine!
5-5-23 May is National Stroke Awareness Month.  More than 800,000 Americans suffer a stroke each year, and strokes can happen at any age.  Vascular Neurologist Dr. Clinton Wright says when seconds count, it's critical to know the signs. 
5-3-23 Dark Matter – what is this mysterious substance whose particles pass through us every moment, but that don't give off electromagnetic radiation like light, heat, x-rays and ultraviolet?  Just one of the intriguing topics covered is this month's programming at the Versant Power Planetarium!
4-28-23 Women especially are often so busy with others, they tend to neglect their own healthcare.  Star 97.7 talks with Healthgrades VP Faye McCray about the importance of self-care for women.
4-25-23 Step into the boat and ride out the storm, the whale, and the leaky craft with The Grand's adaptation of Robert McCloskey's Burt Dow – Deep  Water Man!  Star 97.7 talks with Grand Executive Director Nick Turner and Star Brent Hutchins about this weekend's production.  
4-20-23 Every three minutes, a food allergy reaction sends someone to the emergency room.  Star 97.7 talks with Dr. Sun Poblete, CEO of FARE, about possible causes and new innovations in treating food allergies.
4-18-23 Today begins Wildfire Awareness Week in Maine!  Star 97.7 talks with Forest Ranger Specialist Kent Nelson with the Maine Forest Service about how to prevent wildfires from damaging our beautiful fields and forests.  
4-13-23 No need for the kids to get bored over April break!  The Versant Power Planetarium has something different planned each day, Monday through Friday!
4-12-23 Ellsworth Assistant City Planner Elizabeth Littlefield joins Star 97.7 to talk about the Annual Card Brook Cleanup – its history, its importance, and how you can get involved!
4-5-23 Grand Executive Director Nick Turner talks with Star 97.7 about this week's stunning production of "The Sound of Music"!
4-4-23 Miss Saturday's kickoff of the Hancock County Food Drive?  Healthy Acadia Food Programs Manager Rachel Emus says not to worry – there's a host of activities in which you can get involved all month long!