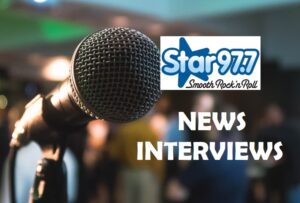 March
3-31-23 Star 97.7 talks with Hancock County Food Programs Manager for Healthy Acadia Rachel Emus about the month-long Hancock County Food Drive and Saturday's kickoff event!
3-30 Thousands of scholarship dollars are available for eligible Maine public high school students through the Worthington Scholarship Foundation.  But President Julie Burgoin says don't wait to apply – deadline is April 15th.
3-29-23 April brings … meteor showers!  Along with a great new schedule of programming at the Versant Power Planetarium.  Director Shawn Laatsch gives Star 97.7 listeners a preview.  
3-27-23 UMaine Cooperative Extension Tick Lab Coordinator Griffin Dill talks all things ticks – how to protect yourself, what to do if you find one, and how tick "season" has changed with Maine's warming climate!
3-23-23 Heart of Ellsworth Director Cara Romano talks with Star 97.7 about the 2023 Downtown Grant Program!
3-22-23 Experience all things sweet this weekend at Church's Sugar Shack in Columbia Falls!
3-14-23 The Worthington Scholarship Foundation has financial support and guidance available for Maine public high school students wishing to attend partner colleges in Maine.  

3-8-23 During Women's History Month, we take a look at the special challenges faced by women entrepreneurs.
3-7-23 Seed Your Future works with schools and the horticulture industry to recruit students into this "growing" field!
3-1-23 It' a new month, and time for a new slate of offerings at the Versant Power Planetarium on the University of Maine campus in Orono!
2-15-23 One of the area's most popular sporting events is back in 2023!  Star 97.7 talks with Hancock County Sheriff Scott Kane about this year's Sheriff's Cup.  
2-14-23 Grab your gal pals and head to The Grand for the final weekend of "Love, Loss and What I Wore"! (P.S. The guys will enjoy it, too!)
2-8-23 The Community is invited to join Heart of Ellsworth Saturday at their Annual Meeting!
2-7-23 The Grand has the perfect performance for your Valentine this month!
2-6-23 Tuesday, 2/7,  is the big day on the campus of the College of the Atlantic in Bar Harbor!  Star 97.7 talks with Dean of Advancement Shawn Keeley about the school's goal of unlocking a matching $100,000 gift from some generous donors!
2-3-23 There's always something fun and educational going on at the Versant Power Planetarium on the University of Maine campus!  Director Shawn Laatsch tells Star 97.7 about February's offerings!
2-2-23 Heart of Ellsworth Executive Director Cara Romano tells Star 97.7, six community banks have partnered with Heart of Ellsworth for the 2023 Downtown Grants Program.
2-1-23 Star 97.7 talks with Birdsacre Sanctuary Director Grayson Richmond about winter storm damage and ways you can support one of Ellsworth's hidden treasures!