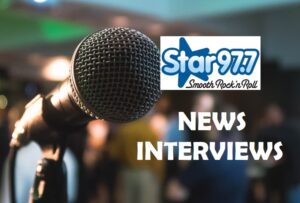 December/November
12/1  Whether you're enjoying the outdoors or sitting inside beside a cozy fire this winter, that dry winter air can be harsh on our skin.  Star 97.7 talks with Board Certified Dermatologist Dr. Cheri Frey about protecting our skin with a good winter regimen.  
11/29/23 For two decades, the Sheriff's Charities has made sure no child or elderly person in Hancock County goes without a Merry Christmas.  Hancock County Sheriff Scott Kane tells Star 97.7 how the non-profit began and about their plans to help others for this year!
11-28-23 From the frigid arctic to the glowing Christmas Star to a special Minecraft Science Camp for kids – Shawn Laatsch, Director of the Versant Power Planetarium, tells Star 97.7 what's on tap for December!
11/27/23 Star 97.7 talks with David Plath, Executive Director of the new Milbridge Theatre and Community Arts Center, about his first official month on the job, his background, holiday plans, and his vision for the future of the venue.  

11/21/23 Imagine having a top-notch artist (along with his elves!) decorating your town for the holidays!  Star 97.7 talks with Eastport Area Chamber of Commerce President Rayett Cooper, who says that's just one of MANY reasons to visit the seaside town this holiday season.  
11/17/23 Shannon Miller is America's most decorated gymnast – a seven-time Olympic medalist.  But in 2011, Shannon faced her toughest competitor.  Star 97.7 talks with Shannon about her journey battling ovarian cancer and the mission she's on today as a health advocate.  
11/16/23 After years of not having much choice but to shop online, Katherine Bruce, Market Insights Manager for Cotton, Inc., tells Star 97.7, the trend this year is a return to in-person shopping and dining out – just in time for Small Business Saturday!